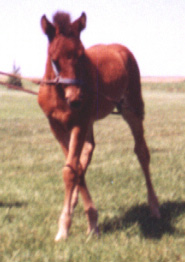 This is Racing Redbud 4 weeks sidepassing. Notice in photo she is crossing over in the front very nicely. Although I would not call this sidepass the best, she does do better ones. Just not caught on camera.





This is Racing Redbud saddled and tied at 4 weeks of age.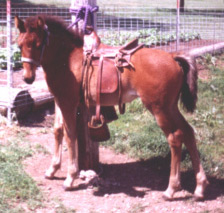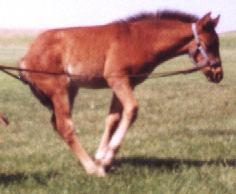 This is a photo of Racing Redbud doing a nice roll over the haunches. Notice her rear haunches are planted and she is rolling over, performing a nice roll back. She is very light on the reins, and extremely athletic. Pictured at 4 weeks of age.
Racing Redbud is priced at $1,500.Contact Suzanne R. Avery, DVM
Kansas Bluestem Racing Redbud
(Kells In Kirby's Honor X Burchtree Roxanne)
Both parents are broke, safe and worked by our family to include children, and are of Old Foundation, WWF, using lines. Nothing Else is needed!!
Filly, born April, 2000, solid bay, will mature at 15.1-`15.3, carries exceptional bone and substance. Temperament: Excellent, very friendly, easy to train, mild in nature, not high strung. "Racing Redbud" is an exceptionally nice bay filly. She has inherited all of her "Moms" good characteristics. She is exceptionally easy to train, as she has been trained and worked from day one.
We do not call it "Imprinting" at Kansas Bluestem Morgans we call it "Using Them". Right from the start, right from day ONE!!!. We by no means work them hard or push them to much, but they learn all about life and how to behave from the start. Bluestem Morgans are worked and used from birth and never know any different. It is the rule rather then exception. Even if it is only standing tied patiently for one hour, this is still training. How many horses have you seen that will not stand tied patiently?? Well, our feelings exactly. So we start them early and it is ingrained. Exceptional behavior is the rule rather then the exception. Training is second nature to them and they LOVE their lessons.
In the photos you will see Racing Redbud Sidepassing and doing a very nice Turn on the Haunches or Roll Back. She was FOUR weeks old in the photo. She also stands tied for many hours at a time quietly, picks up all her feet, line drives, side passes, does turns on the haunches, backs, has been saddled, etc.. This little girl is 100% and knows nothing else. She is a two year old in a weanling body. All she needs is a little time to grow and you will have one outstanding horse. Racing Redbud has been raised in the Flinthill pastures of Kansas, she can run to her hearts content, has never been stalled and has been raised with a herd. She has learned respect from her elders. She must cross ravens, gullies, and creeks daily. She has already learned the art of "Trail Riding" on her own at a very young age.
This cross is exceptional. Noted for being bold, seldom shying, sound, having exceptional feet and legs and in your face people loving horses. One of my qualities that I place second behind a good "Mind" which this line has is that cross country Better get there TODAY, walk and trot. This line make EXCEPTIONAL Driving horses, and have also been used in other disciplines which they also excel in such as trail, 4-H, jumping, Pony Club, Western, English, dressage etc. This is not a high strung line, just using horses that have sense, soundness, exceptional bone and substance. They Will Never Quit but do it Quietly and Safely.
Kansas Bluestem Buffalo Girl
(Kell's In Kirby's Honor X Kansas Bluestem Mabel)
(Mabel is a full sister to Racing Redbud's dam Roxanne)
(Both parents are broke, safe and worked by our family to include children and are of Old Foundation/WWF using lines. Nothing Else is Needed!!)
This foal is a "Superior" little filly. Born large, with curly black locks like a Buffalo, from Kansas, hence her name Kansas Bluestem Buffalo Gal.
She should mature 15.1-15.3. She is an exceptionally "Friendly Filly", with a very placid, easy going personality. She for sure is a horse that will bond with its owner and give 100% or die trying. Buffalo Gal also has been
worked "Used/trained" and raised in pasture and in the same fashion as Racing Redbud from birth. (See Racing Redbud's write up) Buffalo Gal side passes, ties, line drives, backs, trailers, picks up all her feet, saddles, and is being introduced to the cart. I really do not want to sell this foal. I consider her a real "Keeper". My husband said I must sell her and I agree she must go. She is priced at $2,500, and this is a bargain for this foal. She has the training and knowledge of a two year old, has bone and
substance that will carry anyone anywhere without a problem. She also has inherited the cross country walk and trot that will get you there FAST and with this sweeping speed comes the mild mind that will do this Quietly,
Safely, and Sanely. I hate to see this one go.
Contact Suzanne R. Avery, DVM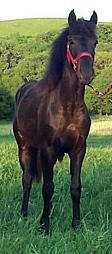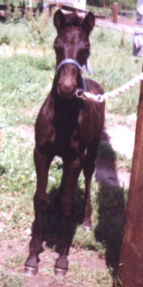 Buffalo Gal standing tied patiently away from "Mom" at two weeks of age.




This is Buffalo Gal line driving at two weeks
of age.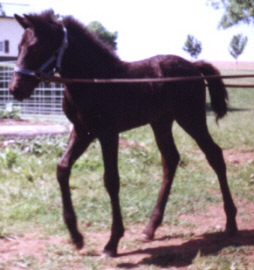 This is Kansas Bluestem Classy Boy (Not for sale) a full brother to Buffalo Gal. He is
pictured here at 12 MONTHS of age. Owned by Sherry Davis. As you can see he is quite handsome and will have lots of size and substance. He also was trained as a small foal in the same fashion as Redbud and Buffalo Gal and has retained all of his training. This early training has given Sherry's horse a superb foundation and the building blocks to make her an exceptional and lifelong sane and sound "Using" mount.